In some Asian countries, telemedicine is "not optional but mandatory"
[ad_1]
There are countries where telemedicine has become a necessity, not an option.
Some Asian countries, worried about the gap in medical infrastructure between regions, see telemedicine as a breakthrough. For example, telemedicine has become a new routine in Vietnam with the active participation of medical institutions. India is also seeking to bridge the social and economic gap by operating a state-run telemedicine platform.
At the online academic conference organized by the Korean Society of Telemedicine, Asian telemedicine experts gathered to share the current state of telemedicine in their country and seek directions for development.
In Vietnam, where medical gaps are still large between different regions and medical institutions, the government is making every effort to introduce digital healthcare alongside the development of information and communication technology (ICT). Amid this trend, interest in telemedicine has increased, and on the occasion of the Covid-19 pandemic, the Southeast Asian country has revised its medical law to temporarily allow telemedicine.
As a result, about 8,000 facilities provided telemedicine, providing more than 3 million treatment services in June.
"The key lies in the connection between higher and lower level medical institutions. The central hospital plays an important role in providing remote medical treatment, surgical cooperation and educational programs for other medical institutions," said Hieu Lan Nguyen, director of Hanoi Medical University Hospital. "Now, telemedicine has become a new norm in intensive care units in Vietnamese hospitals."
About thirty establishments now play a central role as referral hospitals. Hanoi Medical University Hospital is one of them. One hundred and twelve medical institutions participate in the hospital's telemedicine system. Twelve new treatment centers have also opened to provide telemedicine exclusively by connecting to hospital medical staff.
"Despite the rapid growth, telemedicine services are still limited. Like Korea, Vietnam has tasks to solve in terms of law and institutions. We are also concerned with creating an economic compensation structure for remote cooperation and telemedicine. However, the government has a strong will to develop the telemedicine system. Therefore, we expect the institutional issues to be resolved quickly."
India has built a state-run telemedicine platform to address socio-economic issues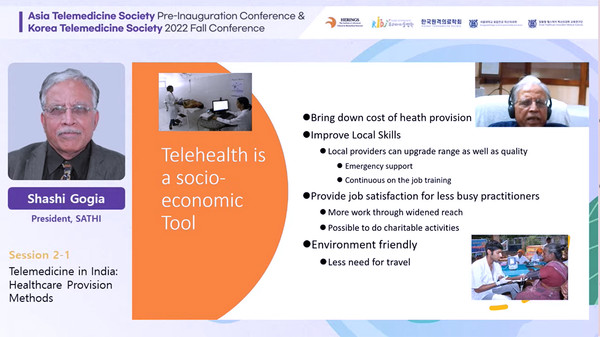 In some countries, governments have built their telemedicine infrastructure. One such country is India, where medical infrastructure is highly concentrated in cities.
According to Shashi Gogia, president of the non-profit Society for the Administration of Telemedicine and Health Informatics (SATHI), India's crawl space in rural areas has even worsened since 2005, either in 17 years.
The rate of unsatisfied doctors in primary medical institutions in India has risen from 17.5% to 21.8%. The situation is even more serious in special care. The rate of unsatisfied medical specialists in provincial medical institutions rose from 47.7% in 2005 to 68.0% 17 years later.
"More than two-thirds of Indians live in the provinces, but the medical infrastructure has not improved as much as in urban areas. Even qualified doctors do not want to work in provinces with poor infrastructure, suffering from lack of basic equipment including X-ray machine," Gogia said.
There is a cost gap of more than 100 times for the same treatment between rural and urban medical institutions. People also cannot ignore the transportation costs. Some statistics show that patients in rural areas have to wait an average of 1.5 years and travel 1,000 kilometers to seek treatment from specialists. Nevertheless, people stop working and go to a specialist in town "without eating or sleeping properly" for days.
All this explains why telemedicine is considered to belong to socio-economic domains beyond medical care. Telemedicine reduces medical expenses. People don't have to travel hundreds of miles to get medical treatment and can continue their work, the SATHI chairman said.
"The quality of regional health care is also improved. Provincial physicians can develop their skills through collaboration or distance education. It can also provide immediate help to the patient in an emergency," Gogia said. "Overall, the reach of medical services will expand.
The Government of India launched the state-run telemedicine platform, eSanjeevani, in 2018. Managed by the Ministry of Health and Welfare, eSanjeevani provides doctor-to-doctor cooperation services remotely and telemedicine services between doctors and patients. The training of medical personnel is also provided there. Through the platform provided by the government, doctors perform real-time video treatments and issue prescriptions. The medical data accumulated here is also reflected in the government's health policy.
The platform grew rapidly as the world suffered from the Covid-19 pandemic. The number of remote cooperative treatments stands at 58.6 million since 2018. A total of 181,883 Indian doctors are registered there and 30,836 doctors are also operating in eSanjeevaniOPD, a home care platform.
"About 67 million patients had received help from this service up to September. Our goal is to help all of India's 1.3 million people reap the benefits of digital health infrastructure," said Jai Ganesh Udayasankaran, Senior Director of Information Technology and Telehealth at the field of health. "With eSanjeevani, patients can more easily and conveniently access professional healthcare and receive uninterrupted care."
[ad_2]
Source link