Connecting with culture: Dakota Wicohan strives to preserve language and way of life of Lower Sioux community – West Central Tribune
[ad_1]
MORTON — Decorating bright orange T-shirts was the order of the day for a dozen Native American girls on a Tuesday in September.
Some of Morton's Lower Sioux community girls ironed pre-prepared designs onto their shirts; others drew their own artwork using fabric paint in the Dakota Wicohan building in Morton. The shirts would be worn on September 30, Orange Shirt Day.
The day honors both the children who died in Native American children's boarding schools and those who survived the schools. The day is observed in Canada and the United States.
Boarding schools in the 19th and 20th centuries attempted to distract Aboriginal children from their ancestral cultures and languages. Children were sometimes mistreated and unmarked graves are still found on the sites of former schools.
Dakota Wicohan, translated as Dakota Lifestyle, is a non-profit organization that works to preserve the Dakota language, history, and culture of Minnesota for future generations. She just celebrated her 20th birthday.
"Because of what our ancestors went through, we lost a lot of our culture," said Gianna Eastman, youth coordinator at Dakota Wicohan. "We want to be a small part of his revival."
The non-profit organization offers after-school programs for youth, as well as programs for adults. He gives them language lessons and teaches them traditional customs. The program has received grants, including ongoing grants from the Women's Foundation of Minnesota.
Eastman, 27, said she was hired at Dakota Wicohan four years ago, right out of college. For her, it seemed natural.
Eastman's grandmother, Yvonne Leith, was one of the founders of Dakota Wicohan.
"I remember when my grandmother had this idea and it came to life," Eastman said.
As a young girl, she helped her grandmother make items to sell at powwows and community events to raise money for Dakota Wicohan. They made greeting cards, jewelry boxes, and wall plaques with Dakota language words.
Leith, who died in 2013, had been to boarding school, Eastman said. Dakota was her first language, but she could barely remember it after school.
Youth-focused programs pass on knowledge
Eastman and youth program assistant Priscilla Gruendemann, 38, work with youth in the Lower Sioux community most days of the week.
Before the girls started designing their t-shirts, they started the meeting with smudges. A girl took a sprig of sage and lit it in a bowl. As the sage smoldered, she carried her into the room so that each person could wave the smoke towards her and around her.
The ritual is "a way to cleanse ourselves," Eastman said. "If you've had a tough day, it's a way to refocus yourself."
Carissa Espinoza, 11, said she had been in programs for several years. "I like it," she said. "We learn the language and how to bead and how to sew."
Mya Lamebull, 14, was deciding how to finish decorating her shirt and said she knew why it was important. "We wear orange for lost children in boarding schools," she said.
Girls learned how to make ribbon skirts and other regalia worn at powwows. There's a boys' drumming group where they plan to make their own drums. Archery is another activity offered by the non-profit association.
Activities are often a combination of fun and cultural information.
The boys have a group meeting on Monday, the girls on Tuesday. Dakota language classes are available for everyone on Wednesdays and the Youth Art Circle is on Thursdays.
After the art circle, they play lacrosse, which has its roots in Aboriginal culture. Youngsters play with modern sticks then move on to traditional handmade sticks.
In the summer, the youngsters go horseback riding on a ranch near Morton owned by Eastman's family.
There is a strong connection between horses and Native Americans, Eastman said. In the past, "they couldn't have survived without horses; they were like a family.
Dakota Wicohan's youth programs are important to both leaders. They have parents and grandparents who were in boarding schools. Gruendemann's children participated in the programs, as did Eastman when she was younger.
The women said they love their work and enjoy helping young people find a sense of identity by sharing information about their culture.
"For most young people and families, they don't know much," Gruendemann said.
"They're very interested," Eastman added. "They want to know more about Aboriginal culture.
An important part of Dakota Wicohan's schedule is a Sacred Life Council meeting every second Monday. These meetings focus on suicide prevention.
They explain why suicide prevention is so important to Indigenous communities.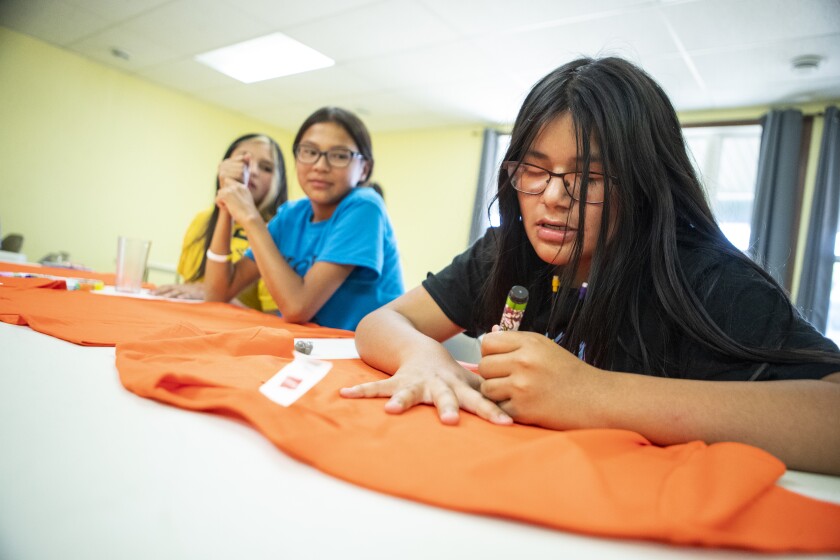 In Minnesota, Native Americans are three times more likely to die by suicide than other racial groups, according to the Minnesota Department of Health.
The goal of the meetings is to help young people develop a sense of identity and pride in their culture and a connection to their community, Eastman said.
[ad_2]
Source link